Zoophilia Notes
This is not intended to appeal to any prurient interests (whatever that means), only to provide a collection of arguments and facts for informational and educational purposes on a subject that many are afraid to discuss. I do not recommend engaging in any illegal activity.
Arguments
Why should it be illegal to have sex with an animal? It is not illegal to kill and eat an animal or to castrate an animal. In fact, most of your meat probably comes from torturous factory farms, where animals live their whole lives in a dark, cramped, overcrowded, nasty, unnatural state only to be slaughtered one by one on a disassembly line. So why are you worried about someone having sex with an animal?
When I mentioned legalizing zoophilia in a chat room, everyone was automatically against it, but when I brought up a woman arrested for letting a dog enjoy her, everyone thought that should not have been illegal. Most cases are not what you would stereotype when your only knowledge of zoophilia comes from negative propaganda, and that includes negative, one-sided reporting from those calling themselves journalists and the negative depictions and stereotypes used by Hollywood films, TV shows, and other fictional garbage.
Why should homosexuals or their supporters be so offended by comparison with zoophilia? That is bigotry. By what measuring rod is one form of love or physical intimacy superior to any other? Time and time again, the LGBT community spews the same kind of bigotry that it has struggled against, that it claims to oppose. Their idea of tolerance is special treatment for themselves, to hell with everyone else.
Facts
Tom Green was known for being outrageous. In one episode of his show on Mtv from 1999-2000, he came close to licking a sheep's slit. In another, he sucked milk directly out of a cow's udder and did it like he was performing oral sex on a male.
The music video for "Bull in the Heather" by Sonic Youth has zoophilic undertones.
"Dirty Deeds Done with Sheep" is a parody by Bob Rivers of the song "Dirty Deeds Done Dirt Cheap" by AC/DC.
"When a Man Loves a Chicken" by Bob Rivers is a parody of the song "When a Man Loves a Woman" that was written by Calvin Lewis and Andrew Wright and first recorded by Percy Sledge.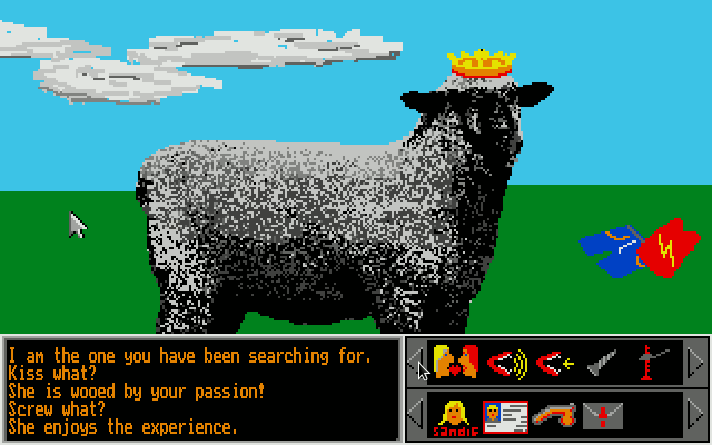 In the 1990 DOS game Sex Olympics, you are expected to have sex with a sheep on planet Ramewe, and she enjoys it. The game is not explicit, and (human) boobs in the low quality graphics typical of 1990 are probably the most explicit things you'll see. You can play the game online for free.
In the late 1990s, there was a documentary about zoophilia on pay-per-view or Showtime or HBO. It showed a woman handling a horse's member at the start and European kids talking in a classroom about whether zoophilic relations should be legal. They seemed to be mostly in support of zoophilia being legal.
Regarding the cartoon called Cow And Chicken, I wondered how they had animal kids. According to the intro, "Mama had a chicken, Mama had a cow. Dad was proud, he didn't care how." They didn't look like hybrid species, but they did talk and act like humans.
The song "Animal" by Pearl Jam says, "I'd rather be with an animal," which I always suspected refers to zoophilia. It appears on the album called Vs., and the album cover has a picture of a goat.
Check your local laws, but according to Wikipedia, it isn't illegal to possess zoophilic pornography in most states of the U.S., though it is illegal to distribute or sell it. Upon reading that, most folks just left this page to go searching for content that is more interesting, so I'll end this.
©2019 Ron Spain